FINAL 2009 UnsraW 12/31/2009 Takadanobaba AREA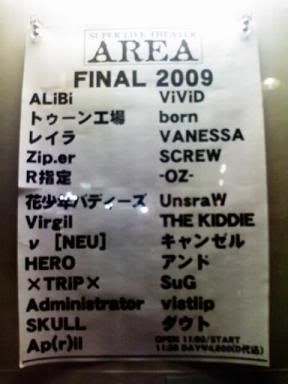 I. and I got to AREA around 6:20, in time to see SCREW, -OZ-, and UnsraW. We also got to see born (they've changed their looks) and VanessA (the singer still sings like a parrot).
SCREW has come a long way. When they came on, I didn't even recognize them. The theme of 2009 must be un-VKfying VK bands because so many bands have gone "normal". The SCREW members looked like a normal rock band, with eyeliner of course. They all had short brown or black hair--Jin's hair was the longest and brightest (milk tea colored)--and wore monotones. Hell, I couldn't even figure out which one was Yuuto because his hair's so short now. Byou used to have this awesome, larger-than-life stage presence, but he was only a shadow of his former self today. The only things he did were squirting water from his bottles and playing with his sunglasses.
Their music has gotten softer and more erratic--some would say more PSC-like--and I had a hard time following along with the music and the furi. And since they didn't have a lot of fans in the audience today (and they obviously didn't play their crowdsurfing song), there was no crowdsurfing today.
-OZ- had also changed their costumes (white now) but I was glad to see their music hadn't changed much. In fact, they played a couple of old songs. And we held up our lighters during the SE, of course. But I don't think they pulled in any new fans today.
UnsraW
Setlist:
-9-
Reborn
Maria
warai oni
It was a short but intense live. I guessed the setlist correctly to a tee, except I thought they'd play Dust To Dust instead of Maria, after that UnsraW course on Yuuki's blog.
After the past two bloodfests, I kinda knew Yuuki would switch tactics, and he did. He had the glittery teeth and pale white contacts today, and nothing else (very low-key for him). The other members looked the same, of course. I think I was the only one who pumped my fists during the bridge in -9-, which is probably why Yuuki posted that second UnsraW course.
The UnsraW fans were scattered today, but at least the other fans (*D=OUT*) didn't run away when Yuuki poured water over us. I was in the fourth row center so I got soaked as usual. He grabbed hands today but not as aggressively as at other shows. Basically you had to reach for him yourself, which is what I did. He pulled me up but let go quickly...
Tetsu pulled people today too. He scooped up like 4 or 5 hands in one turn, just at the end of warai oni.
They ended around 7:55 and we left right after their set. Yuuki blogged about doing a session at the end of the show, but we obviously couldn't stay until then. Well, we could have, but that'd have meant staying through more bands and getting a bad spot for lxnch...